GRAND PUNWICK MYSTERY THEATER (GPMT) is a rotating series of short stories and novellas by J. Robert Deans which take place in Grand Punwick's past, present, and future. The stories feature homages to classic genres of the 1930s and 40s, and are told in a "Cliffhanger" format popularized by the film serials of the same era. GPMT is a Patreon Exclusive, which means that only members of the DFP Patreon Page will be able to read these serials.

Anyone can become a member, and more information can be found at patreon.com/jrobertdeans. Specifically, members of the GPMT "SATURDAY MATINEE" membership level receive:
A bi-weekly digest of artwork produced over those two weeks
A monthly digest of "Warm-Up" sketches
A bi-weekly Behind-the-Scenes newsletter about a variety of topics, including self-publishing, book production, running a small business, and more
A "Perks Pack" mailed quarterly which includes stickers, mini prints and more
Early Access to any other posts (ICRVN, YouTube, or other similar posts)
Full Access to the GPMT archives, plus new chapters emailed every Saturday
PDFs of all physically published books by DFP/Crass Fed Kids
And More, all for just $12 per month!
The Cliffhanger formula dominated movie houses on Saturday afternoons and was so successful in guaranteeing return business that it was adopted by television and comic books to ensure viewers and readers would come back for the next episode or issue. When I was young, a local television station would replicate the 1930s Matinee experience by airing a mystery film, a western, two or three cartoons, and a chapter form a Cliffhanger serial. (A similar programming setup, called Matinee At The Bijou, was packaged and sold to public television stations nationwide, but that show only featured one film, one serial, and one cartoon.)
It was this regular Saturday television programming block that introduced me to Kirk Alyn as Superman well before George Reeves or even Christopher Reeve, Robert Lowery as Batman before Adam West, and even Commander Cody of the Rocket Men long before Dave Stevens' Rocketeer.
While it's not really possible to fully replicate that experience I had as a young child in the written word, I do hope that the manner in which I share these mysteries does at least in some small way give you the same thrill and joy I got when I first watched those cliffhangers of old, or when I experienced THE THIN MAN films for the first time.
GPMT features three rotating series of short stories: The Adventures of Dash & Dottie, The Countess, and The Empress of the Skies.
Meet the GPMT Series!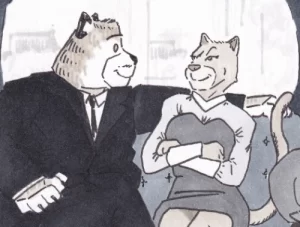 DASH & DOTTIE is my love letter to Nick and Nora Charles, or, more appropriately, to William Powell and Myrna Loy, the actors who portrayed the detective couple in six feature films from 1934 to 1947. Having watched the series several hundred (yes, hundred) times since that first viewing roughly 30 years ago, it's safe to say the "Comedy Noir" or "Lighthearted Noir" genre is my favorite. Dash & Dottie are centered right in that genre, with quick banter between Dash, the retired detective, and Dottie, his loving and adventure-seeking wife who often goads him into helping the police with their cases. The series will often shift settings across the country, moving outside of Grand Punwick proper, but always staying in the larger world we have created for all of our characters
---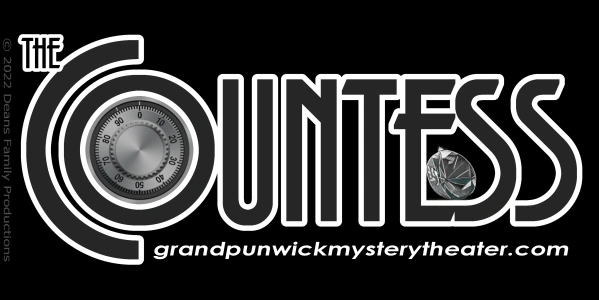 THE COUNTESS is my version of a common 1930s short story trope, the thief with a heart of gold, that was very common in books and magazines of the time. It yielded several successful book and film series, including, Maurice Leblanc's Lupin, Louis Vance's The Lone Wolf, and the most well-known of all, Leslie Charteris' The Saint. With The Countess, however, I do change one constant of nearly all of those 1930s and 1940s mystery series: Roughly 95% of all those mystery film series starred a male protagonist. The Countess' adventures take place in a more ambiguous time, but will be recognizable to readers as the 1960s, similar to the era in which Roger Moore's The Saint television series was produced.
---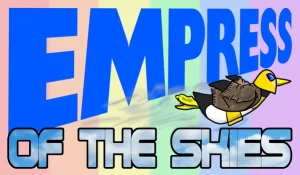 THE EMPRESS OF THE SKIES is an homage to the sci-fi action serials of the 1940s (think Spy Smasher and King of the Rocket Men). However, to keep it consistent with Grand Punwick, I made the lead character a penguin…an emperor penguin, thus the name. Sylvia is a young woman figuring out her life when she finds a belt that grants her the power of flight. She also learns that the belt is tied to a hero from the second major war, and the bearer saved hundreds from religious persecution during that war. Can the belt and its companion stun ray give Sylvia both a purpose and the courage to fight hatred affecting her friends across Grand Punwick?
"It's some of the best writing [Robert] has ever done."

Robert's wife, Elinda, in a totally unbiased opinion. *cough*
---
It is entirely possible that in the future I may come up with yet another character to add to the GPMT stable, but until then, Dash & Dottie, The Countess, and The Empress will alternate. The stories will be told one chapter a week, posted to Patreon every Saturday at Noon Eastern – with the occasional break during holiday or work (aka 'convention') weekends, roughly 4 or so a year.
Copyright © 2022 Deans Family Productions